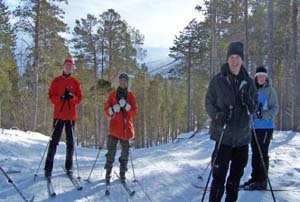 Traditionally, vacating in Scandinavia during the biting winter months is an excellent way of visiting the snowy landscapes that we secretly admire and long for, but for a fraction of the overall cost. As temperatures dip, less people are inclined to swap their chilly weather for, well, the same atmospherics. So that means there are less people visiting popular destinations, healthy accommodation discounts and lower flight prices, meaning you get to experience the beautiful shores of Scandinavia as, when and how you like. Here are some truly jaw-dropping trips for you to experience…
Lighting up the sky
Tromsø, situated in Northern Norway and just a few hundred kilometres from the Arctic Circle, is the perfect place for spotting the elusive aurora borealis, more commonly referred to as the Northern Lights. The Northern Lights occur due to particles crossing into the Earth's magnetic field, causing an energy to be emitted that is visible to our eyes on the Earth's surface as colourful, moving light. Winter is generally the best time to spot the lights, so keep an eye on the solar forecast online before you trek to Tromsø for your Northern Lights holiday.
Let the sunshine in
Winter isn't the only time to visit Scandinavia, as the summer months see a rare natural phenomenon where for an unbroken 24-hour period, sunlight showers Sweden, which means when there are no clouds in the sky or rain in the air and the sky is vividly clear. Darkness is completely banished by the almost constant daylight as the lines between night and day blur together and the unique wilderness landscapes take on an entirely unique perspective.
Darkness falls
On the flipside of the Midnight Sun in Sweden, imagine nights that last 20 hours, and weeks without seeing the sun. That is a part of everyday life in large areas of Northern Norway. Referred to as the Polar Nights, the sun can remain under the horizon for nearly four months in certain areas of Norway. Fear not though, even though the sun remains below the horizon, Northern Norway is not blacked out completely. On clear days, the sun can be seen trying to break through, turning the sky a magnificent dark blue.
Step into spring
In the heart of the land of Fire & Ice, Iceland's most prominent hot spring, The Blue Lagoon was accidentally formed in 1976 during an operation at a nearby power plant. In the years that followed, people began to adapt to nature's way and bathe in the warm water and apply mud from the site to their skin. Iceland's hot springs are seen as a wonder of the world, offering relaxation, purity and a sense of calm to those that dip in their blissful waters.
Take a peak
Most people became aware of Iceland's volcanoes due to the unprecedented no-fly zone imposed across Europe in 2010, following a huge volcanic eruption that caused major travel chaos for millions of passengers looking to return home over the summer months. Don't let that disruption put you off though, as you can now fly by small aircraft over Iceland's breath-taking volcanoes, taking in the infamous Eyjafjallajokull eruption area and coming face-to-face with some of Iceland's less notorious but equally as explosive ridges.
John Evans is a freelance blogger and writer who regularly contributes to a number of websites including Arctic Direct.