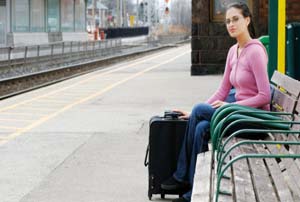 One of the things that I am used to every weekend is to do a general cleaning of my adored car. I start by taking everything out, and then use my handset vacuum cleaner to clean all areas, after it clean, I start figuring out what should stay and what shouldn't dare get back into my car. One thing I know for sure is that I love travelling, and I dislike turning my car into a small store. On the other hand, nothing pisses me off than not having something that I need so bad, when I need it.
So, to make sure I am not disappointed at any time that I am travelling, I made up my mind to that there are so many thing that I should not leave home without, and every woman is cautioned to always have them on board. Here is my list of some of the things a woman should always have in her car.
• Some extra dollars
Leaving your wallet at home is something that happens to so many people all the time. You may have an emergency that might need some cash, i.e. your car may run out of fuel. To avoid all the confusion, it's good to always have some money in your car that way leaving your wallet at home will never be an issue to you.
• Equip yourself with an emergency kit
These are items like flashlight, tire pressure gauge etc.
Flashlights are necessary when travelling in an automobile. If in any time while travelling, you were forced to change a flat tire on the side of the road at night, then you can never underestimate a flashlight. Unless you are a nocturnal, and you are able to see in the dark. I know you will need one because I am assuming you are not a nocturnal….are you?
Replacing your tire now and then can really be expensive, to avoid all that, you can spare some few minutes to check the pressure using a tile gauge so that you can at least save yourself some money.
• Umbrella
People have all the excuses in the world that they give, so that they can justify why they don't need to carry an umbrella. But it is also an essential commodity which is not too bulky to carry around and less costly too. To avoid being trapped in your car in case of a heavy downpour, kindly make sure you always have it at your back seat.
• Nonperishable snacks or food
It is good to have some in your car, which can take care of your stomach during one of those days that you don't have time to stop and buy something. Again it can save your life especially if you are stranded somewhere. I would advise one to pack foods which can last for long periods, and they will be there for you at the time that you need them most.
• Extra clothes
You never know when a careless driver is going to come from nowhere and just splash dirty water all over you. So, keep some extra clothes in your car, which you can change into.
You should never forget to have a Dvla contact, so that you can always be contacting them where necessary, especially if you need to know the current vehicle tax rate.