It is a well known fact that traveling in economy class airfare is not very comfortable when compared to business class or first class. But affording higher and luxury class seats is not possible by everyone. In such a situation if you want to fly comfortably, here are some tips which can help you:
Using frequent-flyer miles for upgrading than traveling in inexpensive economy class
Complaints about traveling in economy class are not new. However, accumulated miles can be put to good use to get rid of economy class traveling and upgrade to something better. Using miles for economy class travel is actually wasting the opportunity of getting better benefits. It is possible to upgrade from the cheapest economy class airfare to business class or first class by using accumulated miles. Instead of paying high business class fare, why not use the miles and avail the upgradation facility?
It is obvious that new planes come with new features and attributes. The 'new plane' smell might be something that you have to deal with or the problem of legroom might still be there, but you can get better power port options, better in-flight entertainment facility and other advantages in a new plane. Just launched plane models are always better than older plane models. Flying in economy class in new planes might not be as troublesome as in old flights.
Business class and first class fares are not always overtly high
People have an idea that first class and business class airline tickets are highly expensive. Infact many think that the price difference is almost 10-times more. But, it is not so actually. Check out for non-refundable first class and business class airfares. Their prices are slightly more than that of economy class fares and many a times almost at par with refundable coach fares. Being non-refundable is the only concern in this otherwise great plan. But if you are sure of the journey, the non-refundable clause should not be an issue.
Pick your seat in the airline
While booking flight online, you will be given the option of choosing your seat. The facility is also available while checking in from the web. If such facilities are not available, you can visit asaptickets.com for choosing the best seat available. This online portal helps in viewing seat maps for all leading airlines and aircrafts. Since all the seats are not equal, the portal will suggest as which seats are best. While some seats will have more legroom; some seats might have other advantages.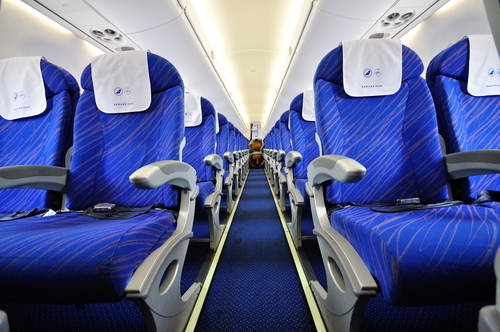 Fly in the middle of the week to get better plane seats
When you are looking for good seats in the plane, try flying in the middle of the week, preferably on Tuesdays and Wednesdays. On these days, lesser people travel by flights and chances of getting good seats are high. Middle seats in the flight are readily available on these days. But this opportunity might not be available on the weekends or on other days of the week.
Look out or enquire about last minute upgrades to higher class in flights
If you are not lucky in getting the best business class flight deals for reduced fares for flying in business class, you can look out for or ask about possible last-minute upgrades to higher class in flights. You might be informed about the last minute upgrade by a mail, at the gate while boarding the flight or even at the airport kiosk. The upgrades might cost little money sometimes or can be free as well. This varies from one airline to another. You can make great savings but still fly comfortably in an upgraded class.
With the above mentioned tips, you can easily get better seats in flights from the next time you fly.