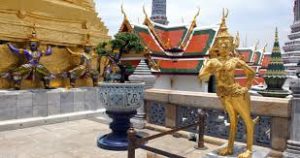 If you feel like your days have become a dull maze of all too common places, events and faces, perhaps a lasting change or a lengthy break from the familiar pattern would do you some good. To cut the monotonous daily routine and freshen up the mood a bit, you could move house, take time off work and visit some of the places you always wanted to see or even decide to move abroad for good – or at least for a good while. In case the idea of spending several months or years in a tropical paradise like Thailand sounds appealing to you, we have some useful info and tips right here to help you pick a perfect destination where you'll be able to get affordable long-term accommodation, find a job that suits your qualifications and experience and start a brand new life the way you like it best.
Thailand basics: Economy, prices and stats
As one of the most rapidly growing economies in the ASEAN region, Thailand takes pride in highly developed manufacture, agriculture and tourism sectors. With the average nominal GDP per capita at USD 5,675, Thailand is a perfect place to start looking for a new job and home: housing, public utility and food prices are relatively low so you'll be able to afford a decent living in most professions, and perhaps even set aside some cash for the future. Just for comparison's sake, the average salary in Thailand in 2014 totaled THB 13,581, the cost of public utilities added up to around THB 2,100 and average rent for a single-bedroom flat out of the downtown was some THB 6,500, so you probably won't feel you're slaving away just to pay the bills.
A job that pays well: Best-paid professions in Thailand
Depending on your qualifications and work experience, you'll be able to choose from a range of jobs and professions on the Thai labor market, and most of them pay well enough to cover your bills and leave a bit of money aside for a rainy day or your piggybank for a bright future. The unemployment rate in Thailand is negligible (around 1% on the national level) and average monthly income in most manufacturing industries adds up to 12,430. According to recently conducted online surveys, jobs that pay best in Thailand include managerial positions such as HR managers, finance managers, business development managers, project managers and database managers where salaries go up to an incredible THB 300,000.
Housing and accommodation: From modest to lavish
As in most other countries, rent prices in Thailand largely depend on the apartment location and its size. People looking to rent a modest studio apartment can find relatively affordable deals online: the monthly cost of renting an average studio flat sizing 30-40 square meters with a bathroom, kitchen and air-conditioning adds up to around THB 5,000-7,000, but if you have a more generous budget or have a hefty savings account set aside specifically for this occasion, you can probably afford to own your own villas and live off rent yourself. Believe it or not, villa sale bargains are surprisingly affordable and prices range from USD 1,100,000 to USD 5,000,000 depending on the location, number of bedrooms and accompanying facilities, so don't hesitate to buy yourself some Thai property if you can afford it: with the real estate prices up and rising, your investment will pay off before you know it.
Moving abroad is not a spur-of-the-moment decision you can make easily and follow up on it in haste: it involves a lot of forethought, analysis and planning. Nevertheless, once you've found a perfect spot to call your new home and have obtained all the main info about rent costs, job vacancies and other essential details, the decision to finally move on – and literally move away – may just be the best one in your life. If you're considering moving to Thailand, rest assured: in a country that never sleeps, you'll have everything you need when you need it most, so take the plunge and make the next step – visit Thailand at least for a while and see how it goes. Who knows, perhaps your month-long stay in Thailand will convince you that the timing is perfect for you to make a thorough change and start a brand new life in this exotic eastern country. Book the first flight to your Thai home away from home and start packing your bags: we can guarantee you won't regret the decision.