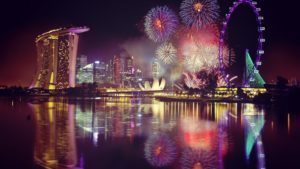 Let us begin by wishing Singapore happy birthday as she turns 50 on 09th AUG 2015!!! When we think about Singapore; the images of Garden by the Bay, Universal Studios, iconic Marina Bay Sands are bound to mesmerize us. Surely this tiny city-country island has emerged to become the top tourist destination in the world. However, indulge yourself in the offbeat and free things that one can explore in Singapore.
Festivals, Shows & Lots of Entertainment:
Singapore is all about festivals throughout which goes on round the year. Surprisingly they are all free!!! Festivals such as Baybeats are treat to music lovers with best indie artists showcasing their talents and how can one forget the architectural marvel of Esplanade where regular free shows are hosted from Opera to Jazz. Get mesmerized with the Singapore Night Festival, held from 21st AUG to 29th AUG every year; the spectacular light settings, art performances brings the majestic grandeur to the streets of Singapore. The performances are staged at various places such as Peranakan Museum, Art Museum and National Museum. Now if you happen to stroll through the Marina Bay area then pick a nice spot along the riverfront for the Marina Bay Sands Wonder Full – Light & Water Show at 2000 hours every day and it is completely FREE!!!
Get Closer to Nature in the Concrete Marvel:
In the midst of the architectural marvels and concrete jungle, can I get closer to nature? Can I find gateway to nature? Yes, absolutely!!! It seems very hard to find to find natural open spaces or outdoors; however there are lot many unknown places that will leave lasting impression. There is Labrador Nature Reserve with well preserved remains of WWII buildings, arms, British Fort and lot more. Off the coast of Sentosa, there lies Sisters Island. Walk on Singapore's highest pedestrian platform, The Henderson Waves Bridge. Built at a height of 36 meters above land, the bridge showcases the shape of twist and curves providing a view of waves. The 274 meter in length is constructed by Balau wood, only found in the Southeast Asia. The bridge connects the Mount Faber Park and Telok Blangah Hill Park. The bridge offer spectacular views of islands nature. The charm of the bridge doubles up at night when the illuminating LED lights up the bridge!
There are many more such places which offer amazing views, quality time and are completely FREE!!! Have some time off on your next Singapore Tour to include these great places.
Singapore Holidays – Book Singapore Tours & travel packages at flamingotravels.co.in. Visit Famous destinations in Singapore with our Holiday Tour Packages.