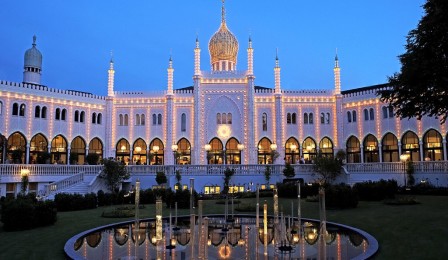 For food lovers, no doubt Copenhagen is the place to be. This is because offers unrivaled variety in terms of cuisines and restaurants. Copenhagen will allow you enjoy the delicious Danish cuisines, Japanese to even French cuisines. In terms of restaurants, this city has one of the most well located restaurants allowing customers to enjoy the picturesque city's scenery as they take their meals. Many of Copenhagen's top restaurants are located in hotels. As such, we have reviewed the best hotels which will offer you unforgettable food when travelling in the city.
*The Nimb Hotel
This is a hotel whose restaurants food is worth checking out. Located in Trivoli Gardens, Nimb Hotel offers a unique experience of the Danish cuisine. This hotel contains two restaurants, Restaurant Herman specializing with Danish cuisine and Nimb restaurant which gives you the chance to witness the chefs preparing your food. This particular hotel has a dairy and hence offers numerous milk products. With more than 100 wines on display, the hotel offers you enticing variety for your after-meal-drink. Most people prefer taking their meals here because of its beauty and modern decor. It is a classy hotel with good tasting food even for the most choosy tourist.
*The Radisson SAS Royal Hotel
This is a hotel that allows you the rare chance of viewing the captivating Copenhagen skyline. Inside the hotel one finds the Albert K Restaurant whose beautiful Italian setting is an eye candy. This restaurant offers Italian dishes and wines that will make you come back again. It is not uncommon to periodically get French cuisines and bottles of tantalizing wine. Located on the 20th floor of the hotel building, the restaurant is well decorated with modern decor making it a favorite spot to the city's residents and visitors.
*The Copenhagen Island Hotel
Once in this hotel one enjoys the view of the Copenhagen harbor and is offered an internationally inspired menu. It's a magnificent hotel with well prepared Danish cuisine .
*The Skovshoved Hotel.
It is a modern stylish hotel that provides a super Michelin granted cuisine as one enjoys the sea show. Summer is the best time to be at the hotel, for one can enjoy their meals at the verandas of the cafe.
*The 71 Nyhavns Hotel
It is considered one of the most romantic places in Copenhagen. Customers take their meals while enjoying the panoramic view of the harbor. It is especially very popular with couples on dates. The 71 Nyhavns Hotel is a four star establishment with a very cool and relaxing atmosphere. Some of the the best Danish and French recipes are offered at its restaurant.
To make sure you have aa great time while touring Copenhagen, take time to check that all your travel documents are in order. If you have an expired driving licence for instance, ensure you renew it in time. For residents of EU zone, a Europe driving licence will suffice for all your travelling needs within the entirety of Denmark and not just Copenhagen. On your next visit to this great Danish port city, make your visit count by visiting at least a couple of the establishments we have reviewed above. They will offer you the most exciting selections of food and drink experiences.