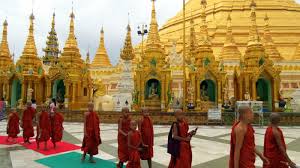 Myanmar is a very lovely place. Most people who want to go to Asia always consider going to this country because of its rich culture, awesome climate and very hospitable people. Here are the top reasons you should travel to Myanmar, too!
Reason # 1: To see the throne of gold
Many people already know that there is a lot of gold in Myanmar. However, you will be able to find a throne covered in gold there. It is even better than the throne of Napoleon, Cleopatra or the Japanese emperors combined. This throne is full of carvings that will tell a magical tale.
Reason # 2: To see the largest and oldest golden monument on earth.
There is a golden pyramid in Yangon that is full of tons of gold which are donated by the past queens and kings of Myanmar. Up until today, significant people still donate gold to the place. It is called the Shwe Dagon pagoda and is 2500 years old.
Reason # 3: To see the largest book in the world.
Believe it or not, the whole Buddhist bible was engraved on a number of whooping 729 marble stones. The place to visit is called Kuthodaw Pagoda which is located in Madalay Hill. Each marble is around 3 feet wide and 4 feet high. Each set is enclosed and are available for viewing. If you are a Buddhist or a Buddhist enthusiast, then you will definitely love this.
Reason # 4: To see your future.
Yes, you've read that right. There are so many fortune tellers in Myanmar. You could be a believer or not but nevertheless, getting your fortune told is a lot of fun. Myanmar natives get their fortune telling skills from years of history of knowing arts of India, China and other neighboring countries. You can get your palm read for a very low price but if you want the best of the best, then you will have to pay higher. You might even need to book an appointment way ahead of time. Burmese fortune tellers are very busy!
Reason # 5: To see beautiful corals.
Scuba diving is one of the top reasons why environmentalists love to travel to Myanmar. Victoria point has a virgin sea where you will find one of the most beautiful corals in the world. In fact, it is so beautiful that some experts call it as the Red Sea of the east.
Due to economic sanctions from most western countries, international flights into Myanmar are limited. The usual way to get into Myanmar would be to fly into Yangon from either Bangkok or [[Singapore] or Kuala Lumpur, both which have good connections from around the world and have several flights into Yangon daily and in Myanmar we can also Play blackjack live at Supercasino.