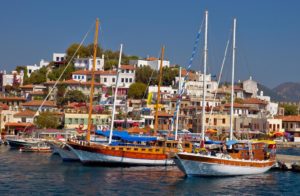 Located about 60 miles from Dalaman, on the southwest Mediterranean coast of Turkey, Marmaris is a busy beach resort that attracts thousands of holidaymakers, especially from Europe. Surrounded by forested mountains, Marmaris is a famous popular resort town in the country.  Here, you will find a wide choice of activities, including some of Turkey's liveliest and amazing nightlife. There are loads of bars and clubs on here, so put on your dancing shoes when visiting Marmaris.
The Old Town is a place where you'll find ancient houses, shops, restaurants and bars. The nightlife is one of the best in Turkey, as clubs come alive with great music and filled with lots of revelers. During the day, you can visit the popular bazaar where you can find all sorts of items including souvenirs, leather, jewelry and pottery. Among the lovely attraction that has close proximity to the Old Town is the working harbor with loads of exquisite waterfront restaurants and Netsel Marina which is one of Turkey's largest. The Netsel Marina is home to great boutiques, stunning yachts and up market restaurants.
Beaches
Marmaris is a popular destination with magnificent beaches. One of the beaches in Marmaris that's worth visiting is the UzanYali Beach. This is a sand beach with crystal clear water and a palm-lined walkway that can take you to the neighboring beautiful resort of Icmeler. There are some water taxis that can take you from Marmaris to the beautiful beaches at Turunc and Icmeler. Another place worth exploring for its stunning beauty is the lagoon located at OluDeniz. There are loads of boat trips on offer to take you to Caretta Beach, Cleopatra Island and several amazing places. A wide range of diving opportunities and water sports are available when you visit any of these beaches.
Attractions in Marmaris
If you are on a vacation to Marmaris with kids, then plan your trip to the Atlantis Water Park. This beautiful park is one of the great places to visit for a remarkable family day out. There are lots of incredible water rides, bumper boats, chutes, bar, a bowling alley, and restaurant in this park. You are sure going to have the best moment of your life here. The Marmaris Castle is another astounding attraction with some wonderful exhibits on display and offers you the chance to take some beautiful pictures. Do not forget to bring your camera along when going to Marmaris Castle for some great photographic opportunities. The Daylan Mud baths is a must visit for those looking for a more rejuvenating and relaxing moment. It is believed that a visit to this incredible place can give great relief to people suffering from rheumatism and arthritis and also gives your skin that perfect look.
To see All Excursions in Marmaris visit www.excursionmarmaris.com
Climate
The weather condition is Marmaris is pleasant, warm and friendly all year round. The best time to visit Marmaris is during summer. At this time, you can have uninterrupted fun time alone or with friends.
Marmaris is a place filed with countless number of entertaining activities, restaurants, bars and vibrant nightlife that offers incredible and remarkable holiday experience. There's never a dull moment in Marmaris.